Sales
Items for sale direct from the artist: availability does change depending on what has sold, but enquiries are welcome to buy or commission an original piece.
JessicaPerryArtShop on Etsy features the latest ranges of handmade cards, earring, pictures, prints and sculpture panels:
Link text here...
Jessica has accepted a wide variety of commissions over the years, including:
sculpture (e.g. life-size Wild Boar in cold-cast iron resin);
murals (decorative painted walls for Green Lane Housing with Care interior open-plan lounge, for ACT);
collaborative art for permanent display in schools (e.g. Walsingham Primary School exterior mural);
paintings (e.g. 'Rolling Fields' - a specific painting on canvas with added stitched detail made to order for an interior of a private house);
Norfolk village signs (e.g. Burgh-next-Aylsham painted sign - one of several Jessica has completed over the last 6 years); and
innertubeart (wearable art, i.e.glasses cords, earring, necklaces and bangles made one a theme of plant stems and seed pods)
Hedgehogs: November Moon Sequence 2020
12/12/2020
A set of 4 Hedgehog pencil drawings, available as lovely quality prints on ivory paper (160 gsm, A5), each circular drawing is 10 cm x 10 cm, with a linear title written below. (Total area 10 x 14 cm).
Selling at £6.00 each or £20.00 full set.
Signed on the reverse.
This sequence of Hedgehog drawings began in November 2020, when I saw a clear view of the crescent moon with Saturn and Jupiter visible close by.
As this extraordinary Corona Virus year draws to a close, I have observed more detail and quiet changes, spent more time outside, and looked into hedges and long grasses.
After a long, hot summer, it was heartening to see my first hedgehog in the wet dusk of autumn.
So began this series of drawings.
2B pencil on cartridge paper, each one evolved on the paper as a circular drawing, with care and time spent on developing the tone, the shade and the light of these nocturnal creatures.
As the month progressed, I recognised a personal link to the Hedgehogs, and to the physical process of pencil on paper:
literally, the point; the pressure; and the immersed focus.
Put simply, it was deeply enjoyable to discover and learn so much with such simple materials.

The sequence follows the moon phases as it appeared to me throughout the month.
1. November 2020
2. Hibernate 2020
3. Low Mist 2020
4. Full Circle 2020
Selling at £6.00 each or £20.00 full set.
Signed on the reverse.

https://www.etsy.com/uk/shop/JessicaPerryArtShop
Giant Red Carrot
10/09/2020
Linocuts - Daffodil, Bluebell and Giant Red Carrot
Seasonal changes: three linoprints made during the Corona virus lockdown of 2020 exploring the process of two-plate colour-graduation linoprinting.
It began with 'Daffodil', moved on to 'Bluebell ' and culminated with 'Giant Red Carrot'.
They each stand for the colour of their season, and importantly, all include the root as an integral part of the whole.
The soil, and the biodiversity of the cultures within it, combined with rainwater summarise the potential and essence of life in, and on earth.
'Daffodil' and 'Bluebell' are a limited edition of 12, and sell at £40.00 (this includes postage in tube). Image sizes are 10 x 45 cm with a 5 cm border.
'Giant Red' is a limited edition of 18 and sells at £50.00 (inc. postage in tube) Dimension is 21 x 60 cm
Printed on 140 gsm Zerkell paper.
Brass Rubbings: Collage
19/12/2019
A series of brass rubbings taken from 12 churches within the Aylsham parish, which have been assembled, multiplied and rearranged to create the image.
These rubbings are made as if creating a drawing, although in the process, the discovery for Jessica, is a sense of bringing people from the past back into focus, and sometimes arranging them with their relatives from the same parish.
These rubbings range from over 6' in length (for the extraordinary 'St Nicholas' life-size, chain-mailed figure, to small figures just 10" high (such as the 'Brampton Maids'.
For sale and to commission from £150.00 - £350.00
'Pearly Puss'
12/12/2019
Assemblage of black rubber pieces and buttons, hammered meticulously onto board.
'Pearly Puss' - incorporating recycled bicycle inner tubes and some of Jessica's extensive collection of buttons.
Precisely cut and collaged rubber and graded buttons form this humorous depiction of a great big cat.
For sale @ £450.00, available from Cork Brick Gallery: http://corkbrickgallery.co.uk/
The Owl and the Pussycat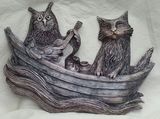 23/11/2019
Cast panel in jesmonite hardened plaster - this is a limited edition of handcast plaster panels, each one is stained and polished with tinted wax to form a unique colour tone.
The Owl and the Pussycat is made in response to Edward Lear's famous poem and illustrations.
As a long-time admirer of his drawings, Jessica made this piece in 2019.
It is cast panel in jesmonite hardened plaster as a limited edition series of 20 panels, each one is stained and polished with tinted wax to a unique colour tone.
Individual tonal preferences can be arranged by request.
These panels sell at £180.00 each, and are designed to hang on the wall.
They measure 16" wide x 12" high x 3" deep.
'Sheep and Crow'
22/12/2017
Two paintings on linen-bound board, to be hung alongside each other as a pair.
12" x 12" each.
This 'tongue-in-cheek- acrylic painting features the simplest ingredients of a sheep and a crow.
The painting is designed to be hung in a corner setting, with each half at 90' to each other.
Each panel is for sale at £200.00 each. ('Sheep at half the price'...)
innertubeart
23/10/2017
innertubeart: original, hand-cut designs made from upcycled bicycle inner tubes.
Glasses cords, necklaces, earrings and wrist-straps: each item is an attractive and wearable original. The elasticated glasses cords keep your glasses where you want them!
Various lengths available, from 22" - 32", available to buy direct @ £6.00 each plus £1.50 p&p: message me via this website or the Facebook page: https://www.facebook.com/innertubeart
The glasses cords work excellently as attractive, elasticated neck cords to keep your glasses where you want them.
Various lengths from 22" - 32", available to buy direct @ £6.00 each plus £1.50 p&p: message me via this website or https://www.facebook.com/innertubeart
Hare: charcoal drawing
24/08/2011
Private commission.
.Brown Hare. by Jessica Perry.
A commissioned drawing in charcoal, the picture measures 21" x 16".
Sold for £180.00.
Commission proposals welcome.
'Ink Oak'
16/12/2010
Ink Oak - large (A0 size) blown indian ink drawing on stretched paper.
'Ink Oak' ( taken from the shapes within a Norfolk 'Stag' oak tree) .
This drawing began by stretching strong Fabriano paper, sizing it and laying on a background set of tones, including a large, pale harvest moon. The Jessica used a technique of blowing (with a straw) dark inks across the surface of the paper. The process is repeated many times until a rich layer of detail is achieved.
Sold (£500.00).
Commissions invited
House Portrait (with resident family)
14/12/2010
House portrait commissioned privately, of a family in their Norfolk home. (Silvergate, Blickling)
Acrylic on board (approx 2' x 2') house portrait, including portraits of the family members at that time (Parents, children, dog and chickens).
Sold (£500.00)
Commissions welcome
'Centipig' and 'Millisheep'
03/12/2010
Giclee prints of 'Centipig' - a humourous take on a genetically modified 'ideal' pig;
and Millisheep, a genetically modified 'ideal' sheep.
Taken from 2 original paintings by Jessica Perry, high quality prints are available: £40.00 each mounted and acetate-wrapped,
or, measuring 28" x 16" in the frame, £120.00 (framed).
The landscape in these pictures features a long barn which visually connects when displayed as a pair.